Nottingham and Nottinghamshire ICB

This is Us
Our group includes everyone, those with personal lived experiences of accessing health and care, many of us have long term health conditions, disabilities, or are carers of family members or friends. We have a shared focus on personalised care. This means the focus is on the person themselves and what's important to them – instead of a 'one size fits all' approach that we often find ourselves in. This is a photo of us and some of the Integrated Care Board Personalised care team at our meeting in August 2022.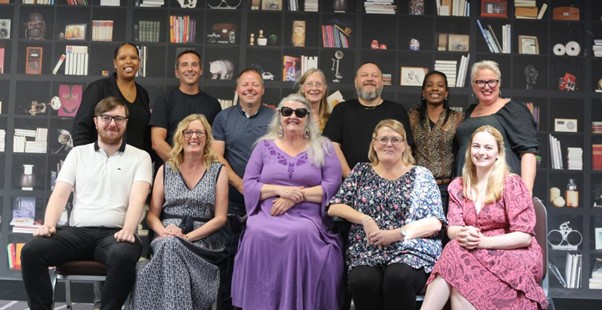 What we do
My Life Choices is a strategic co-production group. Strategic Co-production is the term used by the NHS to describe one of the most important components of personalised care. It ensures that the voice of people with lived experience is integral to the development and delivery of personalised care, supporting the necessary need for culture change. We work in partnership with the Personalised care team and our health and care system to raise the voice of people to shape and influence decisions about personalised care.
Co-production aims to support people with lived-experience to have the skills, knowledge and confidence to work with those from within the system as equal partners. A facilitator, Keymn Whervin, who is a Lived Experience leader, supports us and provides a working link to the NHS and care system.
We complete real pieces of work that make a real difference to people's lives.
We feedback and have an ongoing conversation with leaders in health and care – to understand what has been changed, what can't be changed and why.
We work with a strong commitment from NHS senior management.
We are encouraged to be part of the decision-making process from the first spark of an idea to putting it into practice.
We represent local people and communities from across Nottingham and Nottinghamshire.
We ensure that what is being offered to people is clear, empowering, based on what matters to them and is outcomes-focussed.
Come and say hello!
We are always looking to add voices to our numbers, we want to have a diverse group of local people who use services to be heard. We meet at different community venues across Nottingham and Nottinghamshire, and also online via Microsoft Teams. You can get involved as much or as little as you want, dropping in and out of projects and work, as we all know how 'life' can get in the way. Lunch, refreshments and travelling expenses are provided and when we meet face to face venues are selected which are fully accessible to all.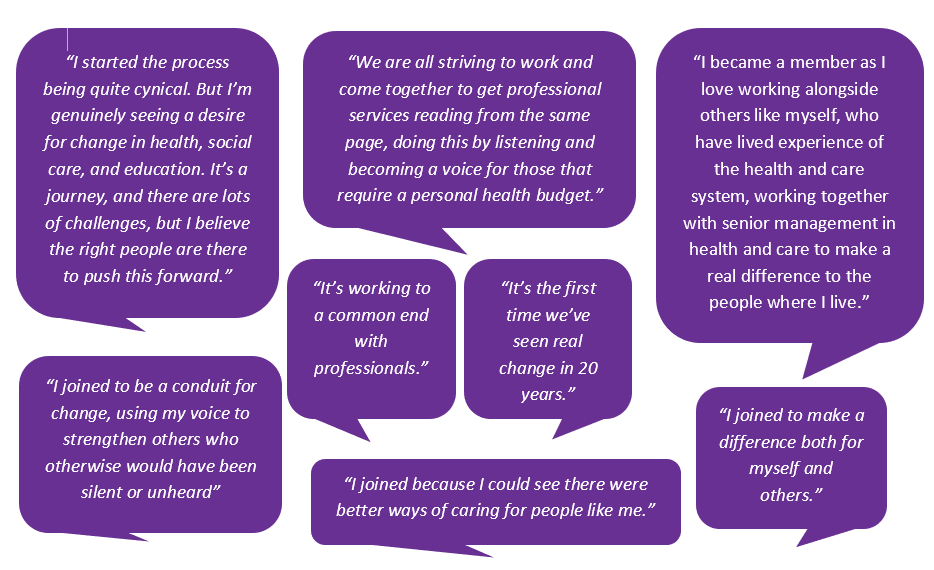 We make a difference
Our members play leading roles in promoting and informing teams and the workforce about personalised care.
Supporting the recruitment process and sitting on various interview panels.
Being members of key national groups, including the Personalised Care National Strategic Co-Production Group, NHS Assembly and members have attended national leadership development programmes.
Participating at major national events such as the King's Fund Integrated Care Conference.
Being described by NHS England as a 'national exemplar' in strategic co-production.

Find out more