Our Integrated Care Board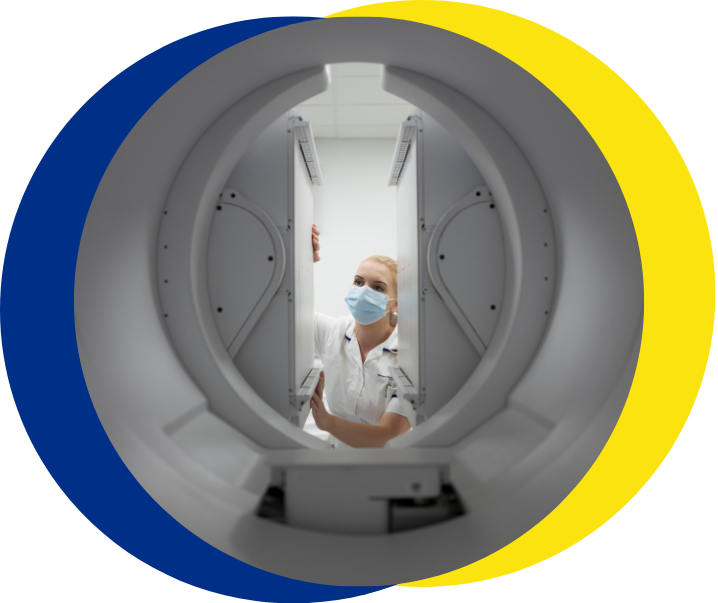 Health and social care across the country has undergone an evolution with big changes being made to join up services, improve people's health and treat illnesses.
From 1 July 2022, NHS Nottingham and Nottinghamshire Integrated Care Board, which will be known as NHS Nottingham and Nottinghamshire, will be at the forefront of making sure the right plans and priorities are put in place to deliver the best care for every community.
Nottingham and Nottinghamshire has built strong relationships across organisations and boundaries for many years and is proud of its collaborative culture that can now continue to grow to improve the health of the citizens that live and work in the area.
We still have a lot of work to do to achieve our vision of enabling every citizen to enjoy their best possible health and wellbeing. This is a critical phase for us, building on the solid foundations to truly integrate care and make the best use of our collective assets for local people. Our talented teams are ready to move forward and get stuck in to making the difference we all want to see.
You can read more about the great joined up work taking place in our news page.
Our Vision
Our neighbourhoods, places and system will seamlessly integrate to provide joined up care. Every citizen will enjoy their best possible health and wellbeing.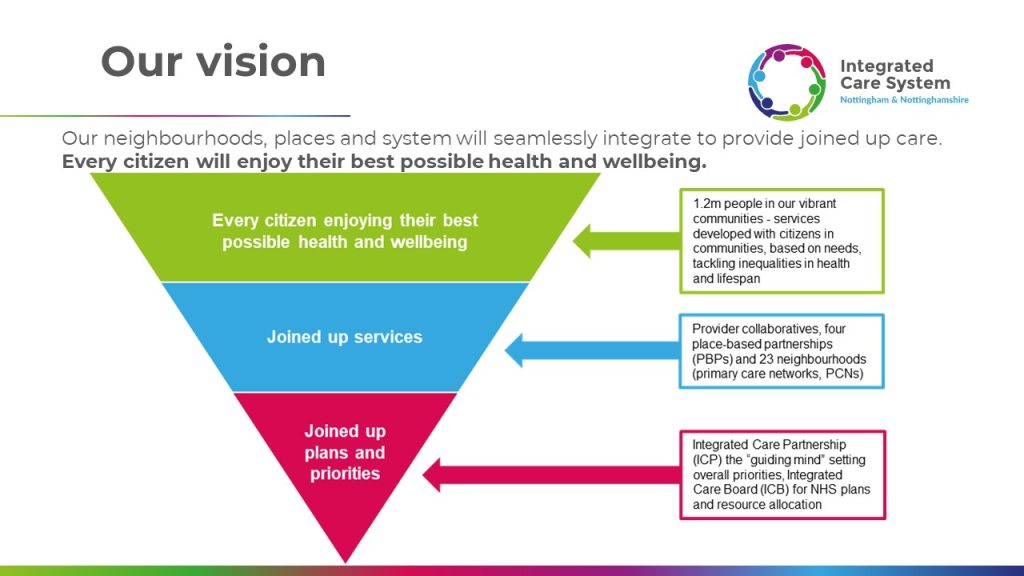 Our values
1. We will be open and honest
2. We will be compassionate and respectful
3. We will be empowered to be innovative
4. We will work collaboratively
About the changes
An ICB is a statutory body which brings together NHS organisations and partners to improve population health and establish shared priorities within the local NHS. ICBs will replace Clinical Commissioning Groups as the local statutory NHS body, building on successful work by all our health and care organisations including the CCG over the last five years.
NHS Nottingham and Nottinghamshire will be the statutory organisation responsible for developing a plan for meeting the health needs of the population, managing NHS budgets, and buying the health services for our area.
From 1 July Nottingham and Nottinghamshire CCG and Bassetlaw CCG no longer exist and the ICB will establish new ways of working through integration, collaboration and shared responsibility across all these areas. Working in this way will provide new flexibility to deliver commissioning activities differently and will allow more opportunities for joint working across the health and care system in our area.
With a population of just over one million people across Nottingham and Nottinghamshire, we want to ensure our citizens have timely access to care to help maximise their health and wellbeing.
Health and social care in Nottingham and Nottinghamshire has undergo an evolution next month, when changes to how the NHS works are made. NHS hospitals, GPs and community services will come together to join up services and to improve people's health as well as treat illnesses. A new NHS body takes over from the current Clinical Commissioning Groups, strengthening the way the NHS and other health care providers work together to improve the health of people across the county.
The new NHS Nottingham and Nottinghamshire Integrated Care Board (ICB) will be established on 1 July 2022, replacing the current Clinical Commissioning Groups covering Nottingham, Nottinghamshire and Bassetlaw. It will be the NHS organisation with responsibility for planning to meet local health needs, allocating resources, ensuring that the services are joined up, and overseeing delivery of improved health and wellbeing for our population.
In line with the NHS Long Term Plan, we will allocate resources and agree operational service plans for the Integrated Care System (ICS) to help improve performance and quality, whilst tackling health inequalities and improving health outcomes for all across Nottingham and Nottinghamshire.
Our Partners
There are big opportunities in Nottingham and Nottinghamshire to improve care by making it easier to see a health or care professional, getting a faster diagnosis, and offering help quicker to people with mental ill health. By working in partnership together we can help progress these opportunities for our citizens. To learn more about our partnership working please visit the Integrated Care System website.
Our partnerships are listed below
Our Purpose
Nottingham and Nottinghamshire Integrated Care Board is responsible for allocating public money as well as planning and delivering a wide range of health and care services.
We use our combined resources to tackle some of the biggest health issues affecting local people across Nottingham and Nottinghamshire.
We aim to provide continuing healthcare to keep people well, prevent ill-health and support people to thrive and live healthier lives.