The workforce Personalised Care Hub is a one-stop shop to guide you on how to deliver personalised care and make it real in your work.
Personalised care is rooted in the belief that people 'want a life not a service'.
Personalised Care – making it real
Personalised Care is not new. For many people working in health and care, engaging in a meaningful way with people, families, carers and communities is part of their intrinsic motivation. It is seen in the development of 'personalisation' in the social care and voluntary, community and social enterprise (VCSE) sector and is integral to established techniques and approaches such as care and support planning, health coaching, motivational interviewing, shared decision making, self-management support and coproduction.
It provides an all-age approach from maternity and childhood, through to living with frailty, older age and end of life, encompassing both mental and physical health and recognises the role and voice of carers. It recognises the contribution of communities and the voluntary and community sector to support people and help build resilience.
Why we need to do it?
The Universal Personalised Care Model
Personalised care is an ambition set out in Chapter one of the NHS Long Term Plan, as one of the key ways to transform the NHS. The Universal Personalised Care Model was published as part of the NHS Long Term plan to make personalised care "business as usual" across the NHS. It was co-produced with people with lived experience and took a significant amount of learning and evidence from other parts of the care system in particular social care, learning disability, children services and our Voluntary, Community, Faith and Social Enterprise (VCFSE).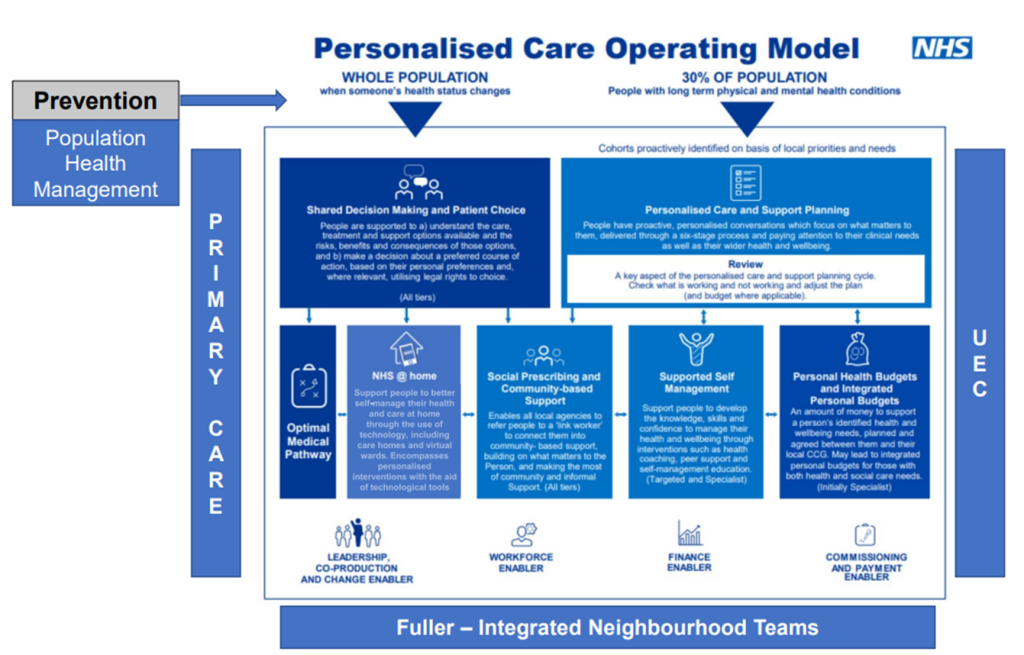 The 6 Pillars of Personalised Care
Shared decision making and Patient choice.
Personalised care and support planning.
Supported self-management and self-care.
NHS@home.
Social prescribing and community-based support.
Personal health budgets and integrated personal budgets.