Nottingham and Nottinghamshire ICB

What is the 'About Me'?
The 'About Me' is a record of the things which you feel are important to tell healthcare professionals about your needs, strengths, values, concerns and preferences. It is what the NHS calls a 'personalised care and support plan and is central to good quality care'.
It can be frustrating repeating your story to Healthcare Professionals, which is where 'About Me' helps. It is a starting point for you to summarise what matters to you and how you would like to be supported. It provides an at-a-glance way of knowing what really matters to you, it can be taken with you as you move through services and have contact with different people in health and care services. It helps us to get to know you and understand what is important to you, because you are the expert of you!
You may have a number of plans that relate to you, and your 'About Me' will be at the centre of them all.
How the 'About Me' can help you
Completing and sharing an 'About Me' with your Healthcare Professionals will lead to positive change for you, whatever your age or circumstances. It helps us to support you better by:
Truly putting you at the centre of your care.
Getting to know you as a person, rather than your health needs and conditions or where you are on a care pathway.
Seeing you as the expert of your own life, including your skills, strengths, experience and relationships.
Helping us build better trusting relationships by understanding what really matters to you and the way you want to be supported.
Being an up-to-date profile of your changing circumstances and wishes.
Helping you be a valued and active participant in conversations and decisions about your health and care.
Providing a record of you that can move with you from service to service.
Michelle's 'About Me' story
---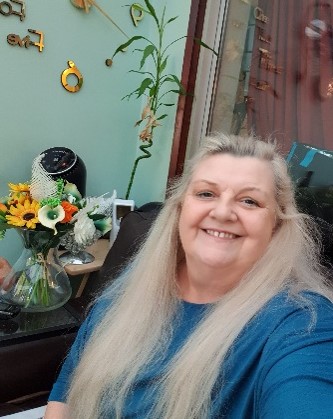 Karl's 'What Matters to me' story
---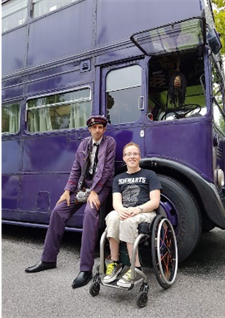 What people say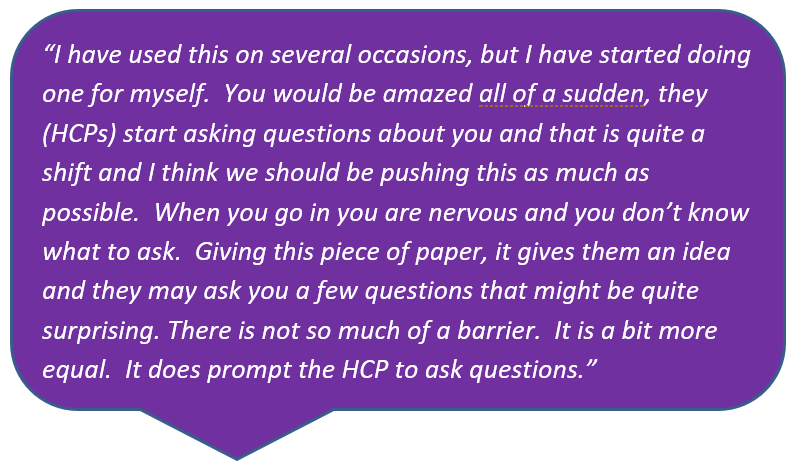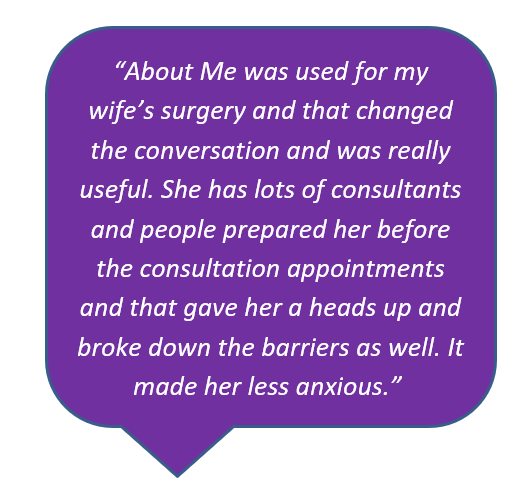 Why not have a go?
Have a go at completing an 'About Me' and share it with your healthcare professionals.
If you like, you could print it out and take it to your health and care appointments
Section
Description
What is most important to me
A description of what is most important to you.

Emergency Information

Include any essential information that any professional in health and social care should know about you in any situation, including emergencies.

Other information which you could include:
– Your values.
– Your religion.
– Your ethnicity.
– Your culture.
– Your pets.
– Your goals and aspirations.
– Any activities including leisure activities which you enjoy doing – visiting places, sports and exercise, listening to music, your paid employment/where you go to learn, volunteering.
People who are important to me
Who is important to you and why?

In here you could include details such as family members, carers, friends etc. It is also important to add the people you DO NOT want to be contacted and why.
How I want to communicate and how to communicate with me
A description of how you communicate normally

In here include details of any aids which you use e.g. a hearing aid, how you would communicate when you are in pain or distressed, how you would like others to communicate and engage with you.
Please do and please don't
A description of things you would like someone to support you to DO:
Include here things like:
– Talk to me, not my carer.
– Remind me to take my medication.
– Encourage me to wash my hands regularly.
– Explain to me what is happening and why.
– Respond to my communication.

A description of things you DO NOT want someone to support you with:
Include here things like:
– Asking questions about certain topics.
– Making assumptions about something.
– Providing support when it is not wanted.
– Talking to you in a certain way.
How and when to support me
A description of how and when you want someone caring for you to support you.

This could include any support you need:
– in an emergency (for example having a blood test).
– to maintain important routines or to carry out activities, for example, going to the toilet, washing/bathing, eating and drinking, bedtime routines, taking medications, moving.
– with wearing glasses/hearing aids/false teeth etc.
– with making informed choices or understanding dangers and risks.
– managing your emotions, moods and behaviours, memory, or confusion.

Tell us:
– how your support needs change in different environments.
– additional support you may need in certain situations, what triggers these and how you deal with or avoid them.
My wellness
A description of what you can do, your strengths and skills, how you engage with others and how you feel on a typical day

You may include things which make you become unwell and your strategies for avoiding or addressing these e.g. not drinking enough water, skipping meals.

Include symptoms that affect your every day life e.g. cough, pain, itchiness etc and how you manage these.

Describe what is different about you on a 'bad day', what you can and can't do, how you feel and if you'd prefer to be left alone.
Also, worth knowing about me
My past, present and future

This could include a short history of your life (where you have worked, where you have lived, important events in your life, important people in your past).

Tell us about your life now, your work, study, your aspirations, your skills, your networks, things you like e.g., foods, places, a football team, and thing you like to talk about, things you dislike.

Lastly include any care and support preferences which have not been included elsewhere.
Date
This is a record of the date that this information was last updated.
Supported to write this by
If relevant, this is a record of the name, relationship to you, the role and contact details of the individual who supported the person to complete their 'About Me'.