Nottingham and Nottinghamshire ICB
What matters to Karl
How a different conversation based on what matters to Karl led to improved outcomes.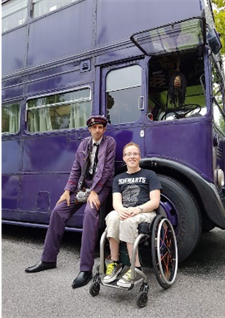 Karl is 22 years old with complex medical needs and learning difficulties. He lives with his mum and dad in an internal annex, and his brother comes home from university on an ad hoc basis. Karl enjoys staying active and playing sports.
Karl's personalised care and support planning journey
Children's and transitional social workers took a holistic approach, but when Karl transitioned to adult social care, there was no flexibility or ability to customise his support; he and his family felt he was trying to be fit into either a physical disability or learning disability box, but not both. When Karl was 20, he moved to a personal health budget, which included a personalised care and support plan that grew out of a person-centred conversation with Karl and his family about what mattered to him and how to best structure his support toward achieving this.
This different conversation was "revolutionary," according to his mum, with "no more boxes!" Karl was able to communicate that his priorities were to play basketball and stay active, not necessarily to walk again.
Karl's All About Me document talks about his priorities, hopes and dreams along with his routines for care and support, who supports him, and crucial information people need, including how he communicates/how to communicate with him, how to respond to different situations, and what constitutes a medical emergency. This is accompanied by a wiki document, which forms the bedrock of his care and support plan, including his relationship circles with the people he regularly sees and trusts in a range of different services, family, and the community. Thanks to these, he and his family no longer need to constantly repeat his life story, as anyone who Karl and his family give these documents to easily read all the information they need to know.
The impact for Karl and his family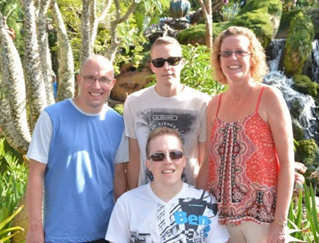 Karl's plan is flexible, "totally Karl-centred" and puts him in control. He is supported by two personal assistants for 40 hours/week and additional nights on a monthly basis. "PAs started in May and his life is unrecognisable," says his mum. "I never see him anymore!"
Karl plays wheelchair basketball and wheelchair tennis on local teams along with table cricket and boccia. He regularly enjoys watching live sports, such as trips to Trent Bridge Cricket Ground or Wimbledon for the tennis.
"Having a person-centred plan empowered Karl to get the appropriate care," his mum fed back at a local celebration event run by the My Life Choices group. "It sounds simple, but it's radical. It's not about box-ticking. It's about the person."