Nottingham and Nottinghamshire ICB
Personalised Care Workforce Training
Find and book training to improve your knowledge, skills and confidence in personalised care.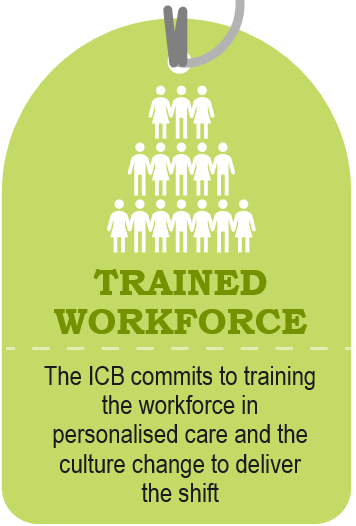 Personalised Care Charter and Commitment
Commitment 5 of the Personalised Care Strategy is to have a trained and skilled workforce. The Personalised Care Workforce Charter sets out how the Integrated Care Board (ICB) will support our workforce to embed and deliver good quality personalised care.  
Who is it aimed at? 
These standards are aimed at those staff in all settings who commission or who develop and design training programmes, and for the health and social care workforce, by setting out clear expectations of what training is required to deliver quality personalised care.
In addition, this framework outlines the knowledge that informal carers and members of the public would benefit from, as well as understanding their role in seeking and accessing support within their own communities. 
Our Charter 
We are committed to ensuring:
Everyone has equitable access to Personalised Care training across the Nottingham & Nottinghamshire ICS. 
Personalised Care training is embedded into all work programmes over the next 10 years. 
Personalised Care training will become part on new starters induction 
Personalised Care will be included in Job Descriptions, Interviews, Supervision and Appraisals' 
Health & Care organisations across our ICS work together to deliver and undertake Personalised Care training.  
Training is open to all regardless of your employing organisation. 
The Personalised Care Workforce Hub 
The Workforce Personalised Care Hub – NHS Nottingham and Nottinghamshire ICB is your local go-to place to expand your information and find out what Personalised Care training is being offered and how to book.  It will support your understanding of personalised care and what's happening in Nottingham and Nottinghamshire, including top tips from our Personalised Care Co-production Group – My Life Choices and hearing people's lived experience stories and films on the impact of personalised care.  
Education Groups
The range of roles across our Integrated Care System is vast.  Rather than list them all, we have grouped them into 3 tiers as a way of providing an approximate outline as to which level of Personalised Care training and bespoke topic training they need to complete. All with the aim of ensure they have the confidence, knowledge and skills to embed personalised care in their role.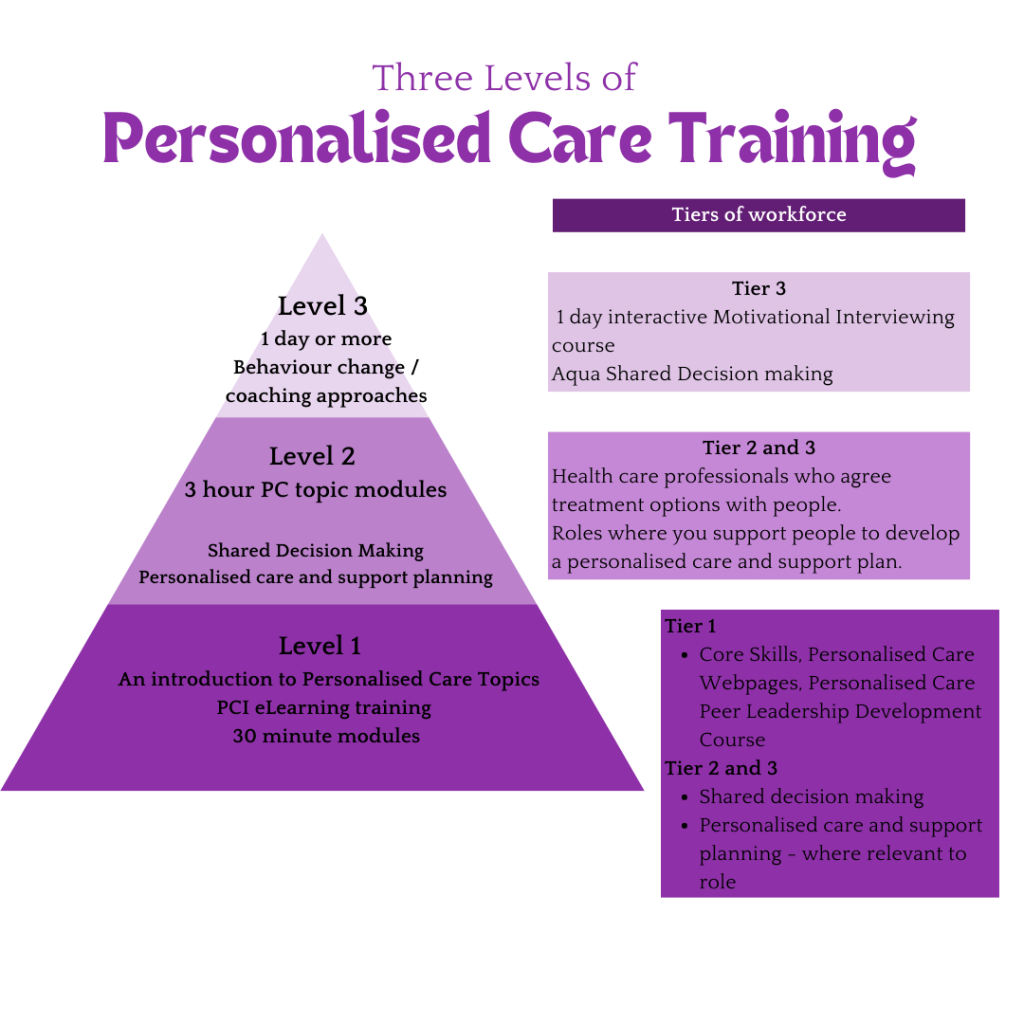 Personalised Care Standards

The Personalised Care Institute is the home of personalised care education.  It is a virtual organisation, accountable for setting the standards for evidence-based training in personalised care in England. All Personalised Care training commissioned and delivered in Nottingham and Nottinghamshire must be accredited by the Personalised Care Institute.  
eLearning accredited training
Webinars and Podcasts
Resources for trainers, learners and commissioners
Decision Support Tools
They offer a range of flexible ways to develop your skills.
All training is FREE and provides external CPD points and a certificate of completion.
When completing the online module tick that you work in NHS Nottingham & Nottinghamshire, so that we can collate the numbers of people who have completed the PCI Elearning in our area.
Your learning options (personalisedcareinstitute.org.uk)
In addition, you can find relevant modules on
Home – elearning for healthcare (e-lfh.org.uk)
Home – ESR Hub – NHS Electronic Staff Record
Level 1 
PCI eLearning  
These are free courses and are suitable for all health and care professionals, regardless of profession or seniority. They are short 30-minute modules designed to introduce you to a range of personalised care topics. You can log your learning in the eLearning portal for CPD points and a certificate.
Core Skills 
Shared decision making 
Personalised care and support planning 
Personalised care and support planning – Maternity 
Leading personalised care as a junior doctor 
Remote consultations 
The eLearning modules  for completion are dependent on your role and the skills and knowledge you require.  As a minimum all staff need to complete the Core Skills and Shared Decision-Making eLearning module.  
PCI Endorsed eLearning – more in-depth subject areas 
Personal Health Budgets 
Person Centred Approaches 
Supporting Link Workers to Deliver Social Prescribing 
Healthy Weight Coach 
Making Every Contact Count 
How to access PCI online training 
Create an account on the Personalised Care Institute website: Personalised Care Institute: Log in to the site
Under the eLearning tab of the home page, select "Start Learning"
Select the module you are to complete, then "Enrol me" at the bottom of the course overview
From here, you will now have access to the course materials, as well as the pre and post course assessments to review the impact of your training.
All of the modules you register for will show under the "My Courses" section of your page on the left-hand sid
Personalised Care training accessed via ESR  
The Healthcare Financial Management Association (hfma.org.uk) worked in partnership with NHS England to provide several bitesize online courses free of charge to all NHS staff.
Personalised Care 1: The key to change 
Personalised Care 2: Components of Personalised care 
Personalised Care 3: The commissioning Cycle 
Personalised Care 4: Introduction to Co-production & Personalised Care 
Personalised Care 4: Evaluating Personalised Care Approaches 
Personalised Care 5: Introduction to digital transformation 
How to access Personalised Care Training on ESR  
Personalised Care training can be accessed via ESR by typing HFMA (Healthcare Financial Management Association) into the search bar and scrolling to the Personalised Care modules.
eLearning for Healthcare – Health Education England 
Level 2  
Personalised Care approaches 3-hour sessions.
Personalised care and support planning
Overview of personalised care and support planning 
Supporting the development of more personalised outcomes 
Key elements of a person-centred conversation 
Skills development and practice for personalised care and support planning conversations 
Shared Decision Making
Overview of shared decision-making 
How we make decisions 
Health literacy supports shared decision-making 
Key elements of a shared decision-making conversation 
Shared decision-making skills development and practice 
Level 3  
Clinicians working at key clinical decision points and in specific roles need to attend more in-depth training, such as health coaching and motivational interviewing. Delivered either face to face or virtually by a PCI accredited provider. This is the most effective way of learning how to implement different approaches within your current practice. 
Motivational Interviewing Study Day Flyer
How to access Level 2 and 3 training courses 
Review the offers available both via the workforce training flyer, or on the workforce hub located under the Personalised Care section the ICB's website.
E-mail the Personalised Care Team at nnicb-nn.whatmatterstoyou@nhs.net with details of:
Your full name
Your job title
Date and time of the training that you would like to attend
The Personalised Care team will confirm your booking and advise of the next steps regarding attendance.