Nottingham and Nottinghamshire ICB
Be Winter Ready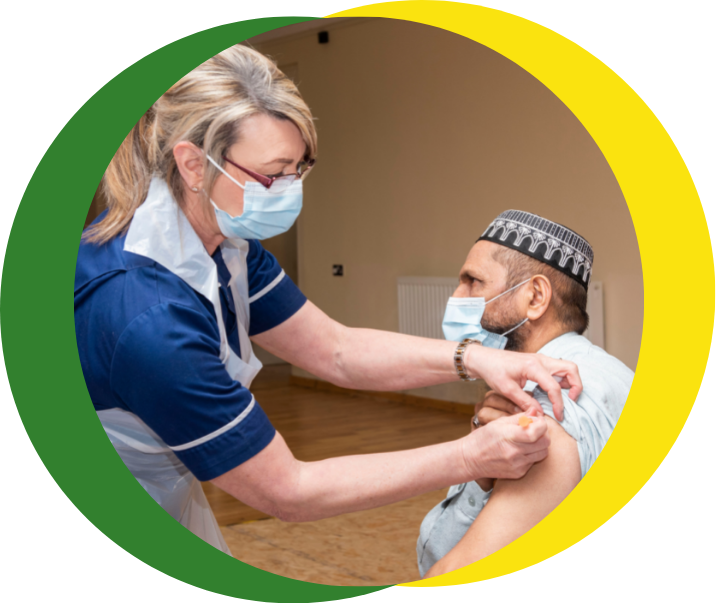 Help us help you stay well this winter
There's a lot you can do to help you and your loved ones stay well over the winter months from making sure you get your flu jab if you are eligible and keeping your house warm (at least 18 degrees Celsius) to making sure you have enough medicines in your medicine cabinet should you fall ill. Please help us to help you by following the below advice.
In a medical emergency when someone is seriously ill or injured and their life is at risk please always call 999.
Minor illnesses – self care
You can manage coughs, colds and other minor illnesses with medicines, make sure your medicine cabinet is well stocked this winter to help tackle things like coughs and colds. For information about flu visit our flu advice page.
Vaccines
To help protect yourself from flu you can get the flu jab if you are eligible, you can find out more about the flu jab here <LINK to Flu page>. You can also stay protected against Covid-19 by ensuring that you have all the jabs and boosters that you need. You can find out more about the Covid-19 vaccination programme here. <LINK to Covid page>.
Injuries and allergies – Pharmacy
You can visit to your local pharmacist for things like allergies, minor injuries, constipation and ear aches. You can find out where your nearest pharmacy is here.
Symptoms that aren't going away – GP practice
Contact your General Practice team about symptoms that aren't going away. They can offer telephone, online, or face-to-face appointments with a GP, nurse or other healthcare professional depending on what your health concern is.

To find your nearest GP to register with please visit – https://www.nhs.uk/service-search/find-a-gp
Need help fast, but it's not an emergency – NHS 111
Think NHS 111 first if you need help fast but it's not an emergency, 111 is open 24/7. Either call 111 or visit 111.nhs.uk
Sprain, fracture, minor burn – Urgent Treatment Centre
You can visit your local Urgent Treatment Centre for sprains, fractures, minor burns and skin infections. You can find your nearest Urgent Treatment Centre here.
Tooth ache, sore mouth – Dental treatment
For urgent dental care you can call your local NHS dentist, your nearest NHS dentist can be found here. For urgent care out of ours contact NHS 111.
Mental health support – Crisis line
If you are worried about your mental health, or you are experiencing a mental health crisis, please call the 24 hour crisis line on 0808 196 3779.
For more information and tips about how to stay well this winter please visit the Nottinghamshire County Council staying well this winter page here : Stay well this winter | Nottinghamshire County Council