Talking about the Covid-19 vaccine with your community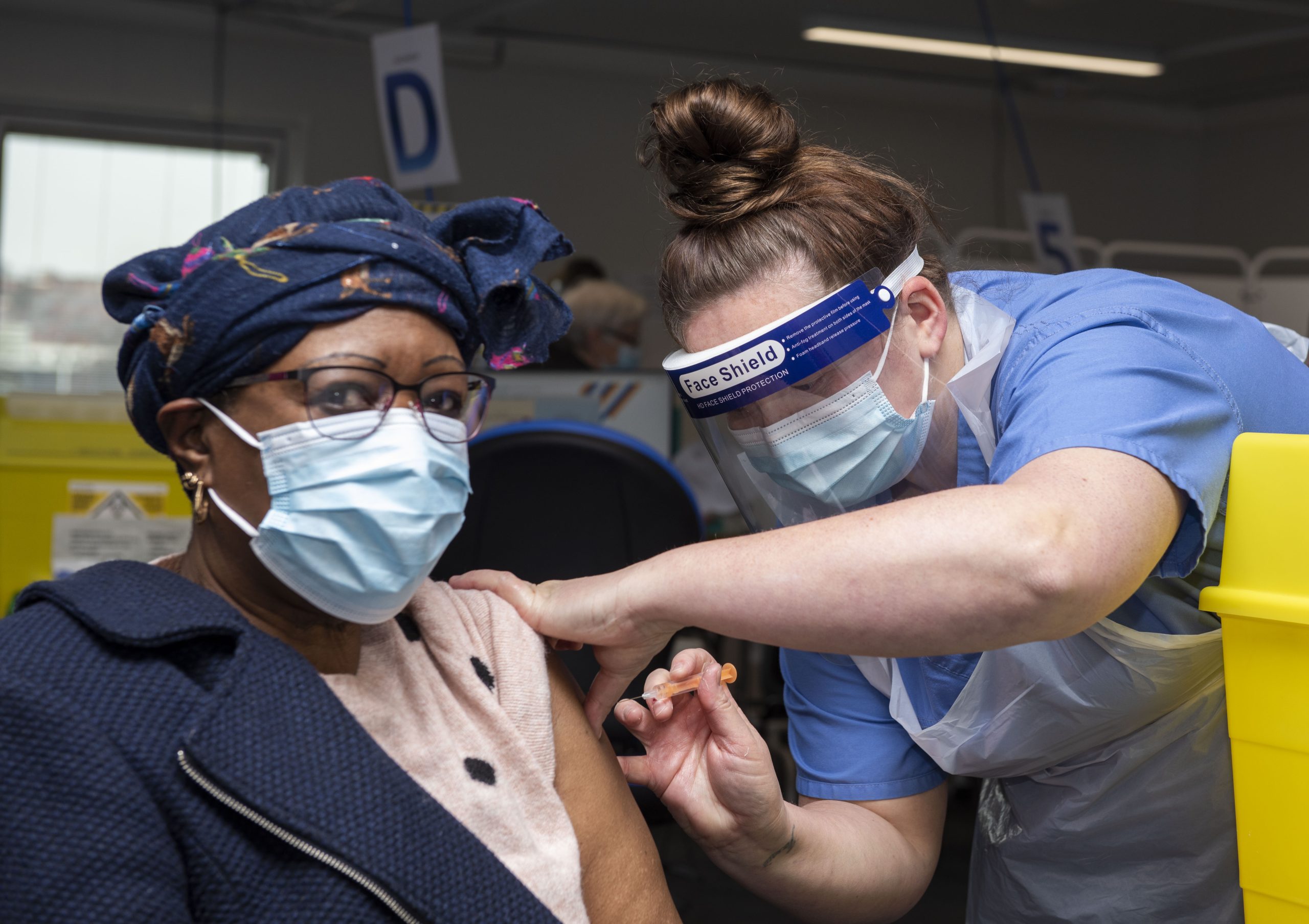 This page is full of resources and information to help you have informed conversations with people in your community.
Latest Covid-19 Information
More than 3 million Covid-19 vaccinations have been administered in Nottingham and Nottinghamshire since December 2020.
We know that vaccinations offer the best protection against Covid-19 and we continue to encourage everyone to have all vaccinations offered to them.
Your vaccination offer of a first and second dose will expire on 30 June 2023, you can attend for either of these jabs at any time up until this date. After 30 June, the NHS offer will become more targeted to those at increased risk, usually during seasonal campaigns.
From April 2023, a Spring Booster is being offered to the below groups:

Residents in a care home for older adults

All adults aged 75 years and over
The offer of a Spring Booster jab will come to an end of 30 June 2023.
Why do people still need vaccinating against Covid-19?
Covid-19 vaccination is one of the key remaining tools in controlling the pandemic, with safe and effective vaccines reducing hospitalisation and transmission, ultimately saving lives. We are seeing the impact that vaccines make– hospitals are less pressured than they have been during the pandemic, even when rates rise.
There are still many people who are not yet protected against Covid-19 and this means people are getting unnecessarily unwell and the most vulnerable individuals, whose vaccines may not be as effective as for others, face restrictions on their day-to-day lives.
Hundreds of people continue to come forward every week for their vaccinations. Appointments and walk-ins for first and second doses remain available at our vaccine centres and some pharmacies and GP practices.
We can all support vaccine uptake through constructive conversation and by offering practical assistance to:
improve understanding of the importance of vaccination
increase confidence in the safety of the vaccine
improve access to vaccination
Trusted community figures and leaders are uniquely placed to talk directly with communities to help understand concerns around vaccination, share information and address misinformation. Therefore, this resource page has been developed to accompany the Nottingham and Nottinghamshire COVID-19 Vaccination Conversations development session to support you to undertake effective, positive conversations with members of your community. This will in turn support them to make an informed choice about the COVID-19 vaccine.
Details on who can be vaccinated and where they should go?
How to support your community
Literacy, language, confidence, or access to technology issues can present hurdles to booking a vaccination appointment. Any support that you can offer people in overcoming these hurdles can make a huge difference.
You could help them navigate the booking system or, if they wish, make the appointment on their behalf whilst you are with them. You could support with booking appointments on their behalf via the NHS website or by calling 119.
If residents have difficulties communicating or hearing, or are a British Sign Language (BSL) user, they can use textphone 18001 119 or the NHS 119 BSL interpreter service.
British Sign Language videos about vaccinations are also available from Notts Deaf Society.
How to have an informed vaccine conversation
Brief, but meaningful, conversations – skills and techniques
A familiar face and trusted voice is uniquely placed to have a conversation with those who are uncertain about vaccination and help them make an informed choice. We know this kind of discussion can be daunting and we hope to support you in approaching these conversations with some useful resources.
Conversations are a key tool in improving vaccine uptake and confidence in the COVID-19 vaccine.
It's not about being an expert, it's about being willing to ask open questions, listening to and acknowledging concerns to build up trust and acting to identify appropriate next steps for the individual.
Remember you are making a difference talking about the COVID-19 vaccine positively, even if the person doesn't change their mind.
You are not responsible for choices that other people make and are supporting them to make their own informed decisions
Guided conversations flow chart

This flow chart summarises the guided conversations element of the Nottingham and Nottinghamshire COVID-19 Vaccination Conversations Development Session.
Informed COVID-19 vaccine conversations mobile-friendly resource
Please find a mobile-friendly resource that summarises how to approach having an informed conversation about the COVID-19 vaccine and brings together key information and signposting links from this page. You can download the resource here.
Signposting Information
How to receive a vaccination
Book a free taxi to a vaccination centre (Nottingham City only) or help residents plan their journey using Traveline.
Where to speak to a Nurse or Doctor about the vaccine
Anyone can walk in and chat with a registered healthcare professional with expertise in the Covid-19 vaccination without any obligation of getting a jab.
You can also visit our vaccination centres to chat with a doctor or nurse about the vaccine, with no expectation for you to have a vaccine whilst you are there.
We have a number of pharmacies and GP practices offering the jab. These can be booked onto via the NHS website or 119. You can find a list of the sites here.
Where to find wider Covid-19 guidance
For wider guidance on COVID-19 and measures you can take to stay safe, visit the Government website
Covid-19 vaccination resources you can share
Information for people with learning disabilities
A short film to support people with a learning disability and autistic people to get the Covid-19 vaccination, busting the myths, showing how easy it is to get your vaccination and top tips for staying safe.
British Sign Language (BSL) and Braille
To access our series of COVID-19 video content in British Sign Language, please click here
Braille versions of this information are available on request through contacting the Engagement Team at: nnccg.team.engagement@nhs.net or calling or texting 07385 360071.
Enquiries
There is a vaccines queries hotline for the public, covered by Nottinghamshire County Council – you can phone 0300 500 80 80 with any questions about vaccines (but you can't book via this number).
Tell us what you are hearing
By letting us know about myths or misinformation, or common concerns you are hearing, we can update our guidance for you and target activities to negate these obstacles. Report misinformation or common concerns by emailing nnicb-nn.engagement@nhs.net