Your Covid Recovery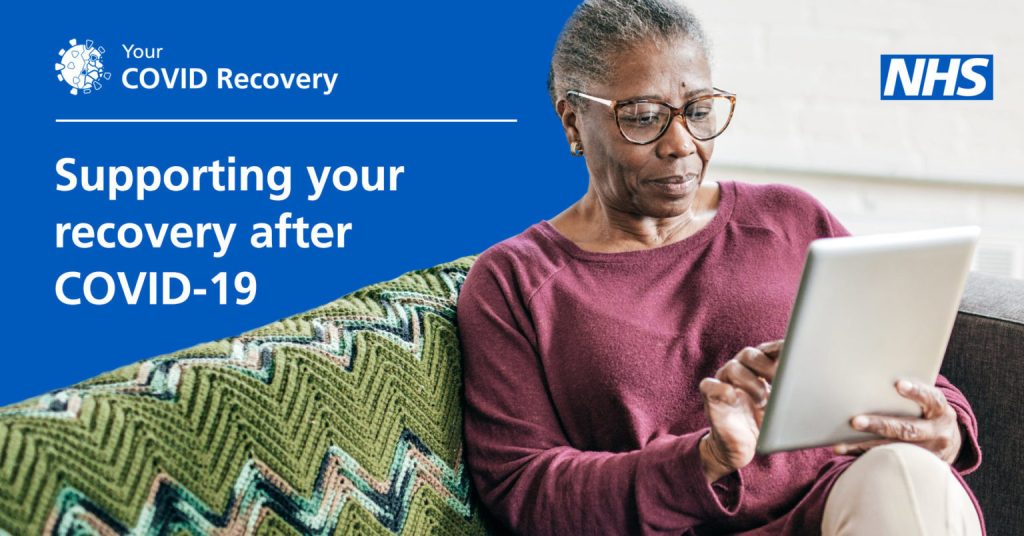 Post-Covid Syndrome:
Post-Covid Syndrome or 'long COVID' can affect your physical and mental health.
There is support available and lots of things you can do to help yourself.
Manage the effects
Get support and guidance on how to manage the effects on your mind and body on the Your COVID Recovery website
Manage your mental health
If you need emotional support please contact the Nottingham Mental Health Helpline on 0300 5550730 9am-11pm 7 days a week.
If you need support with your mental health, you can refer yourself to NHS Talking Therapy services.
Find an NHS Talking Therapy service
Talking Therapy can also provide employment support as part of your psychological therapy. They can help with things like looking for work, help if you are experiencing problems at work or returning to work after sickness absence.
Talk to your GP
If you are worried about your symptoms, speak to your GP.
After 12 weeks:
If the effects continue to affect you after 12 weeks and are not helped by the resources on the Your COVID Recovery website, you should discuss options with your GP.
Post-Covid Syndrome assessment clinic:
Post-Covid Syndrome Assessment clinics have been launched across Nottingham and Nottinghamshire to help patients who are experiencing multiple new and ongoing symptoms at 12 weeks or more after a Covid infection.
You should speak to your GP who will refer you to the clinic if it is suitable for your needs. The clinic will fully assess your physical, mental and cognitive needs, usually by telephone, and will hold a discussion with a multi-disciplinary team of clinicians to plan your care. The plan may include referrals to community and mental health services to help treat your symptoms.
Speak to your GP to see if this is suitable for you.
Printable advice sheet:
Advice sheets are now also available in alternative languages. Please click the links below to download:
Information for Employees and Employers:
Long Covid symptoms could affect someone's ability to work or cause them to take sickness absence. ACAS, the Advisory, Conciliation and Arbitration Service provide advice on their website: Sickness and absence because of long COVID: Long COVID – advice for employers and employees – Acas
The Society of Occupational Medicine also provides information and resources on their website and have produced a return to work guide for managers.
University Hospitals of Derby and Burton Hospitals have also produced some videos about returning to work and Long Covid symptoms.
More information about Long Covid/Post Covid:
Long-term effects of coronavirus (long COVID) – NHS (www.nhs.uk)
Coronavirus » Post-COVID Syndrome (Long COVID) (england.nhs.uk)
Overview | COVID-19 rapid guideline: managing the long-term effects of COVID-19 | Guidance | NICE
Long Covid: Ask the Expert Q&A Panel | Nottingham Hospitals Charity – YouTube