Nottingham and Nottinghamshire ICB
Danny's story
A personal health budget
D and C's story
D is a 60-year-old man in Nottingham. Following a brain stem stroke and 12 weeks in hospital, he was discharged to a local brain injury unit and then the rehabilitation unit within the centre. He received brilliant therapy, and his wife C visited daily, but D was desperate to come home.
Their PHB journey
D and C's grown sons built decking to make their house accessible, and they trialled a five-day home visit at Christmas, supported by rehab unit staff. This went well and highlighted issues to solve to prepare for D coming home.
C and D set a goal for D to come home at the end of the following April. After research, C discovered D's funding was through NHS Continuing Healthcare (CHC) and didn't have to be spent at the brain injury unit. D and C discussed the future and put together a care plan based on what a normal week would look like, and it was agreed with their CHC case manager through a PHB via a prepaid card account.
After a lot of searching, C found a carers' agency taking on new cases, and she negotiated buying back three days a week at D's brain injury unit so he could keep receiving therapy. In addition, until accessible shower equipment was put in at home, he could continue to use their bathing facilities.
Carers come once a day for a block of time as it's less intrusive to C and D's life and allows them to make plans. C does the caring in the afternoons, evenings, and nights, but if she wants to go out in the evening, she can book in advance with the care agency. The PHB also has a contingency for four weeks of full-time care if C is ill. A private assistant also helps out, and an employment support agency handles the payroll– "It's so easy," C reflected. This flexible approach was the key to their success.
The impact on their lives
D and C have begun to live their lives again at home together as a family. They go on walks with the dog, spend time in the garden, and enjoy visits from family and friends, and they've been able to go on a few holidays. D loves to fish, and he is even able to go fishing again with his PA and carer.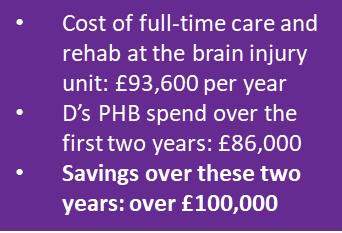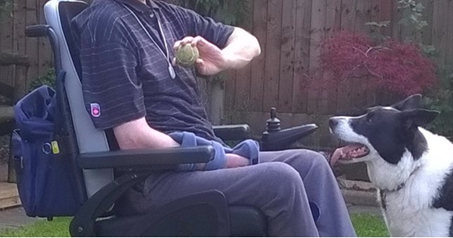 They have also become members of the My Life Choices local strategic co-production group, and they attended the My PHB Story event at the Oval in London in 2018. They enjoy getting together with other service users and managers and welcome the opportunity to influence change. As (now retired) local authority employees, they feel they are continuing to use their skills and experiences for the benefit of others.