Tell the NHS about a Covid-19 Vaccination you have had abroad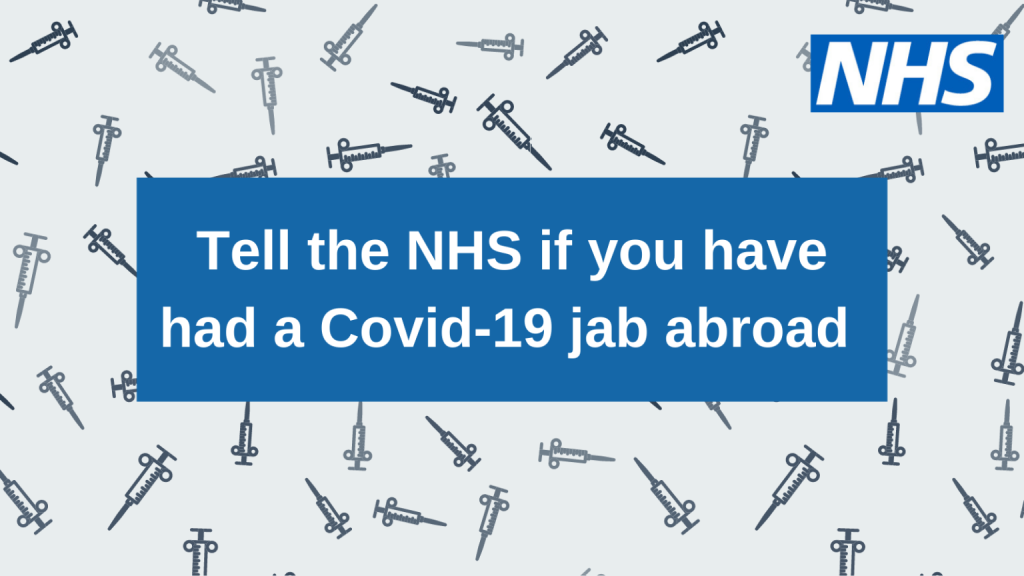 Overseas Vaccination Record Validation Service:
The Overseas Vaccination Record Validation Service enables you to book an appointment to show evidence for any coronavirus (COVID-19) vaccinations you've had outside of England. This is so the NHS can securely update your vaccination record. This can take up to 10 working days.
In Nottingham and Nottinghamshire, this service can be booked at the Forest Recreation Ground Vaccination Centre and Kings Mill Hospital Vaccination Hub.
Who can use this service
You can use this service if you or your child are aged 5 years old or over and have an NHS number.
You or your child also must have received one of these vaccines outside of England:
Oxford/AstraZeneca (Vaxzevria)
Pfizer/BioNTech (Comirnaty)
Johnson & Johnson (Janssen)
Moderna (Spikevax)
Institute of India (Covishield)
Bharat Biotech (Covaxin)
SinoVac (CoronaVac)
Beijing Institute of Biological Products (Sinopharm BIBP)
You can book an appointment on the NHS website.